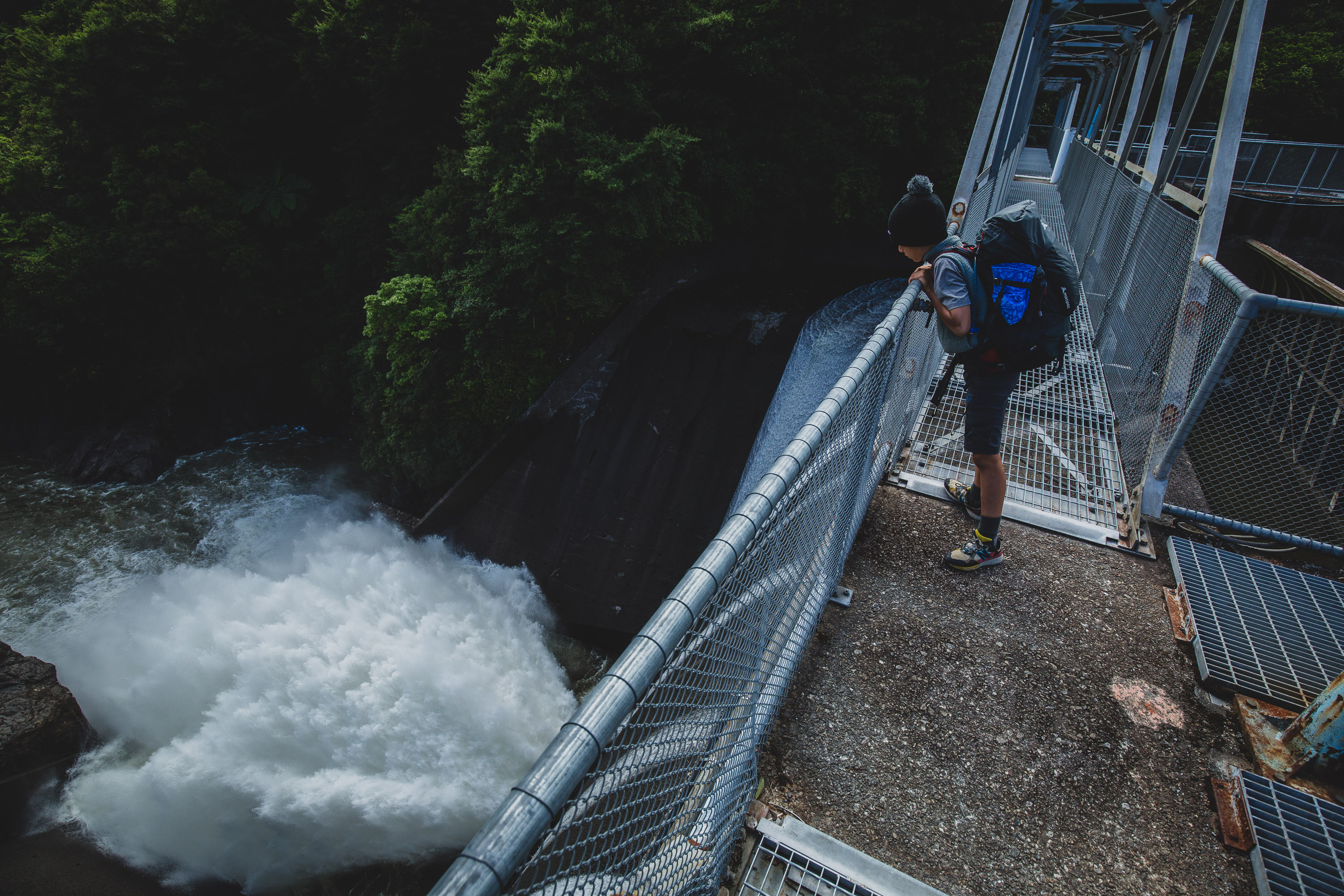 We started off on Mangahao Rd near Shannon. You can either walk up the road first or go up the track first. We went for the road first because we didn't want to do the road at the end of our tramp. The road was easy because a hunter picked us up halfway and drove us to the top dam. We said thanks then checked out the dam. Damn, it was huge, it spat out like ten tons of water a second, here's a picture of it. I was horrified, it was also as loud as twenty thunderstorms. After reservoir one we walked for about ten minutes around the end of the lake. In those ten minutes we went up and down a lot, once we got to College Creek it was so much better.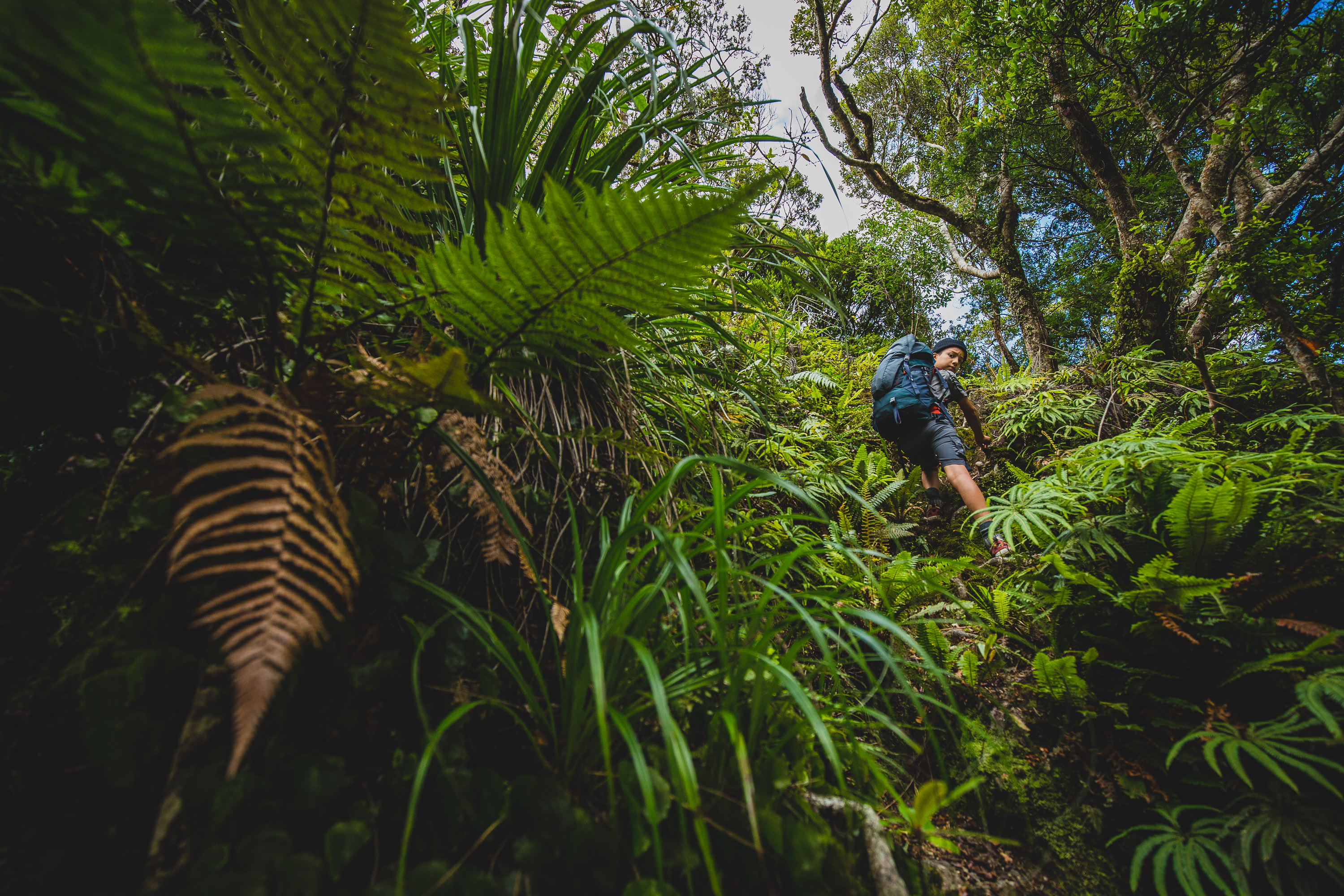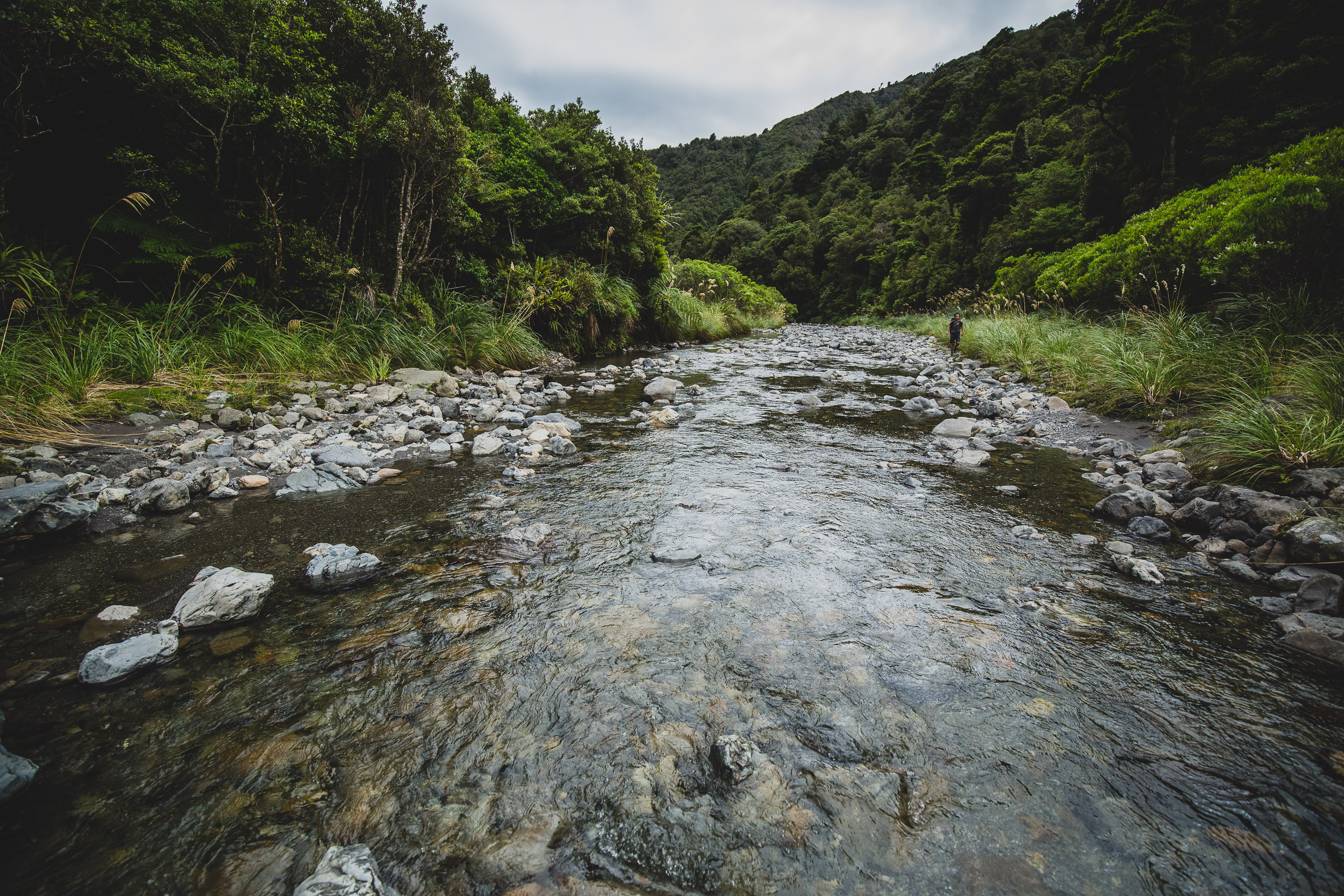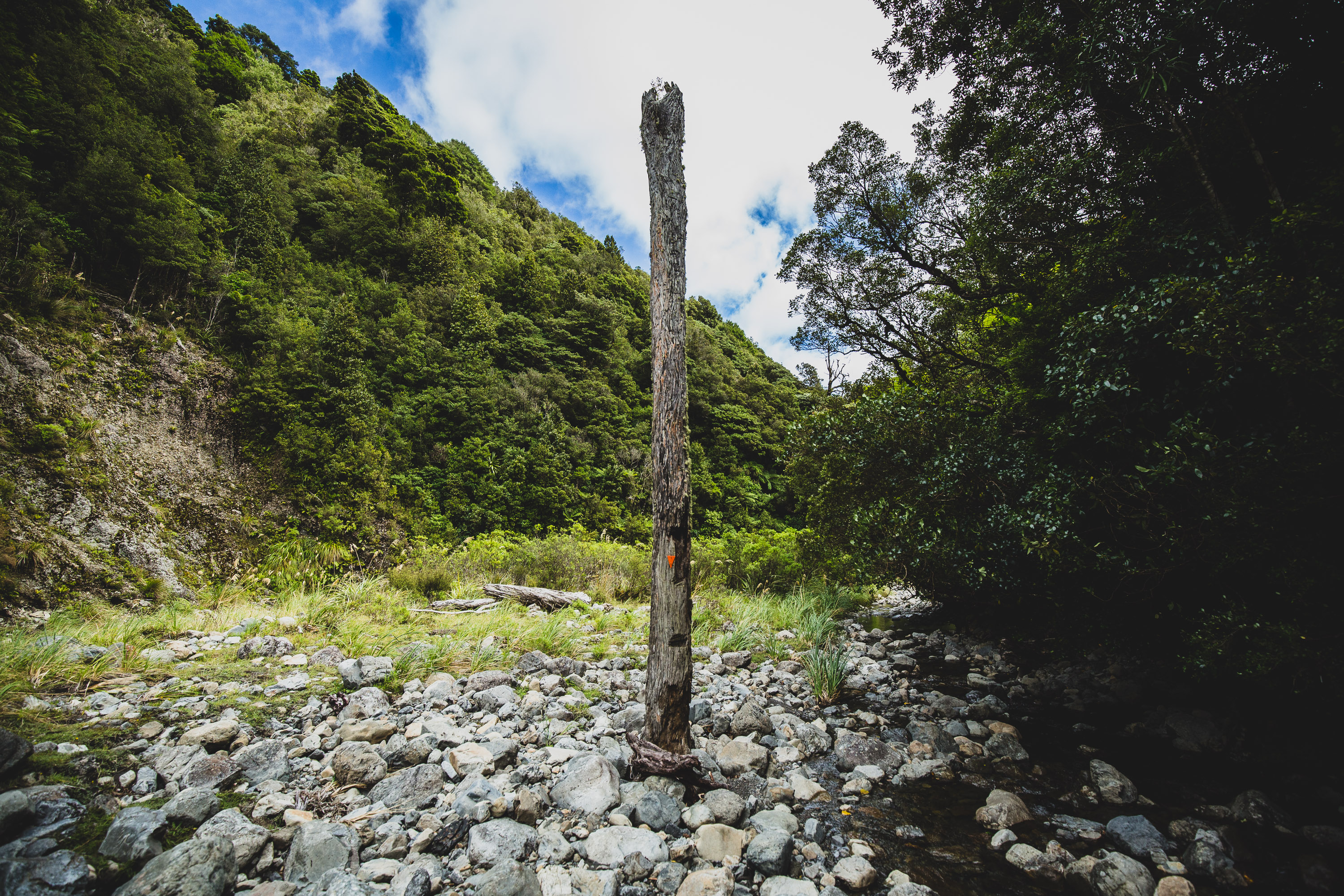 Dad didn't tell me, but it turns out that the track turned into the creek! I'd never walked up a river before, I tried not to get wet feet but I got wet in the first fifteen minutes and one of my feet got saturated. My dad laughed for eight seconds. I said dad that's not funny. Then I turned it into a parkour course, jumping off one rock to another. Then the worst happened, I slipped off a rock, my thumb got squished between two rocks and blood flowed past me. I asked dad for help, he asked why. "My thumb is bleeding," I told him. He came over, trying not to get wet, and said wait for a few seconds for the water to get out of the cut. I said do it now, please. He did it and it stung a lot.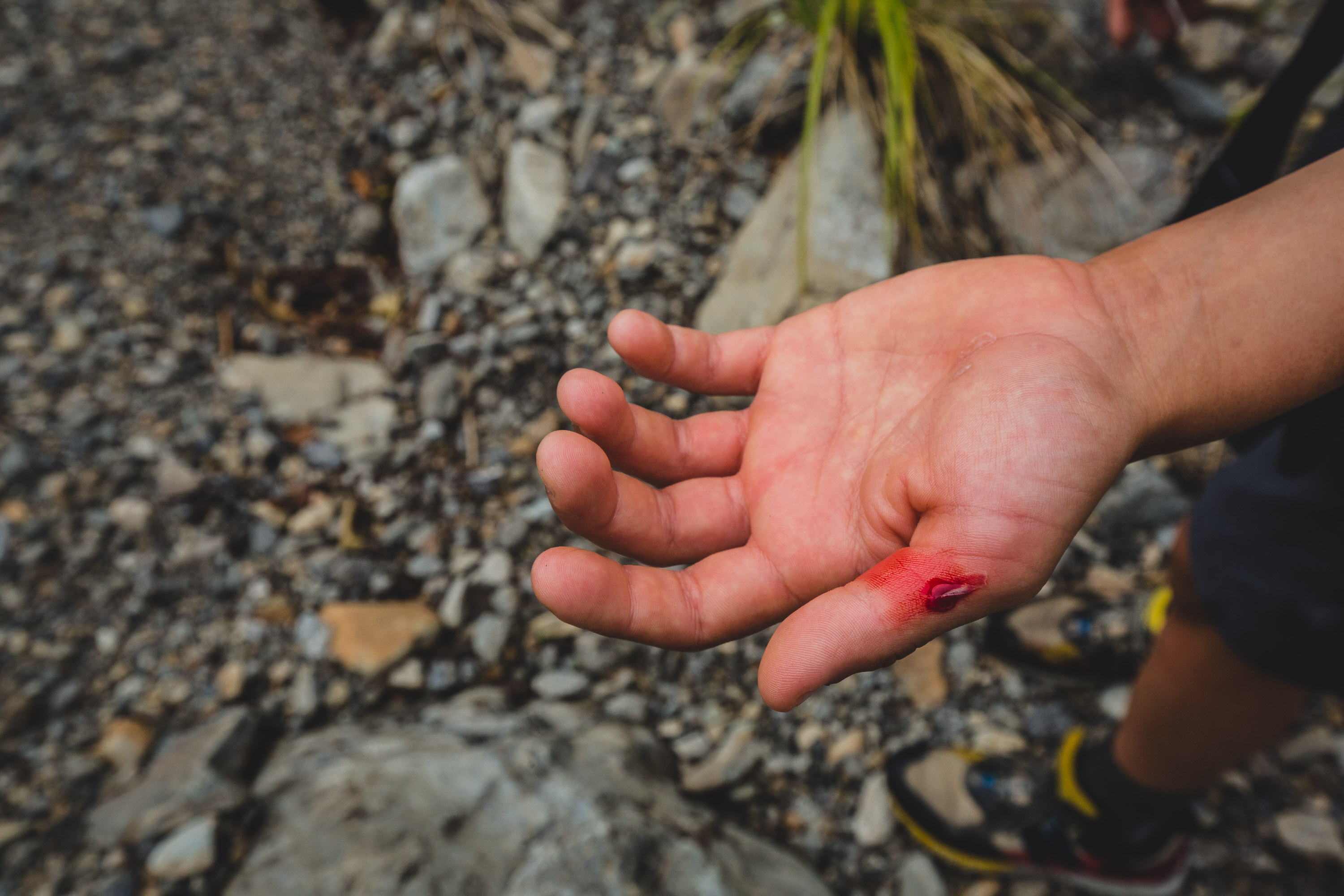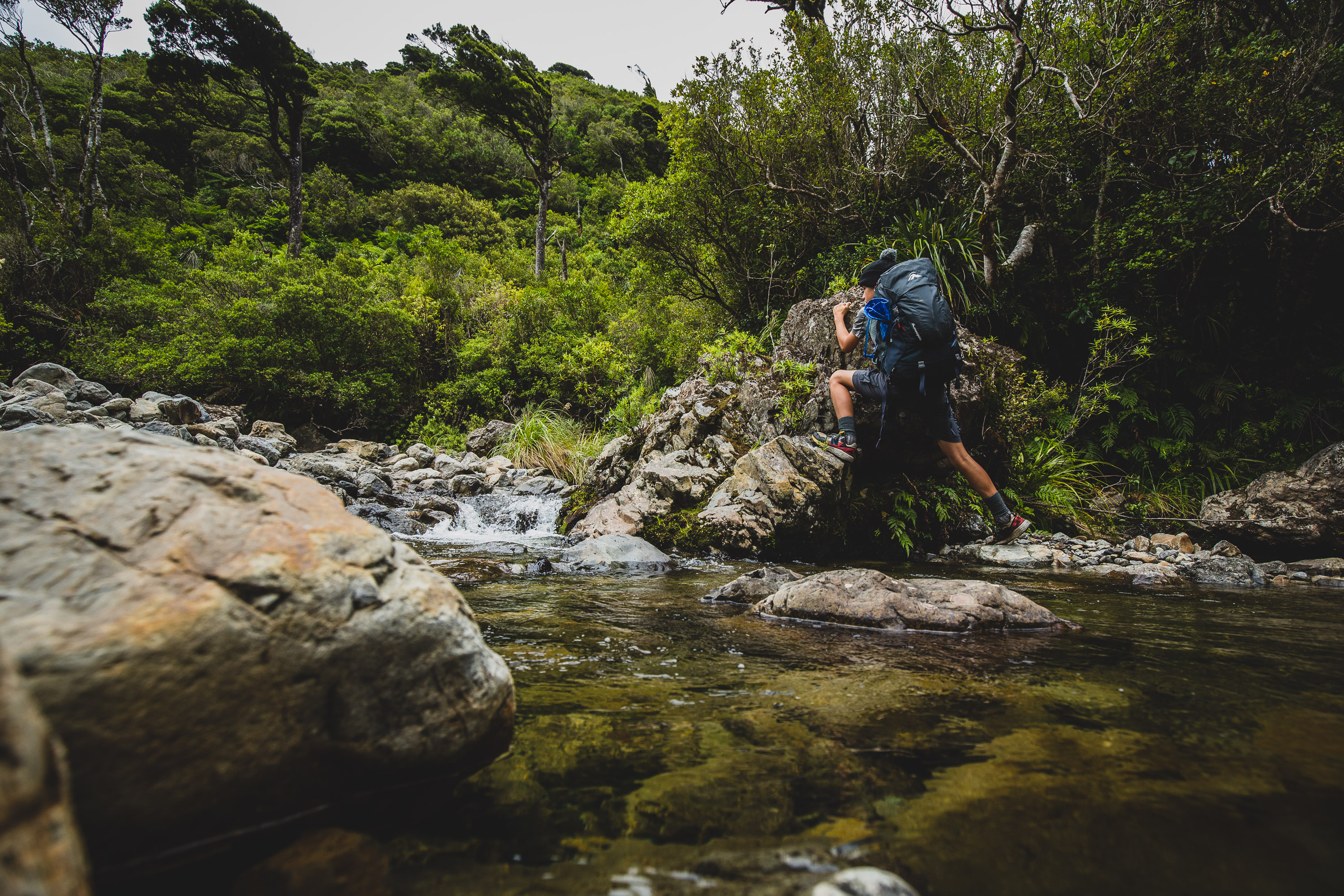 Then we saw a tree, it was no ordinary tree, it was living up straight in the water it was crazy. About 20 minutes of walking later the river split in two, I spotted a brown maker. I ran over as fast as I could without the water getting me. It pointed up the creek, we had lunch in front of the sign on this grass patch. We had tuna on Meal Mates and had two each.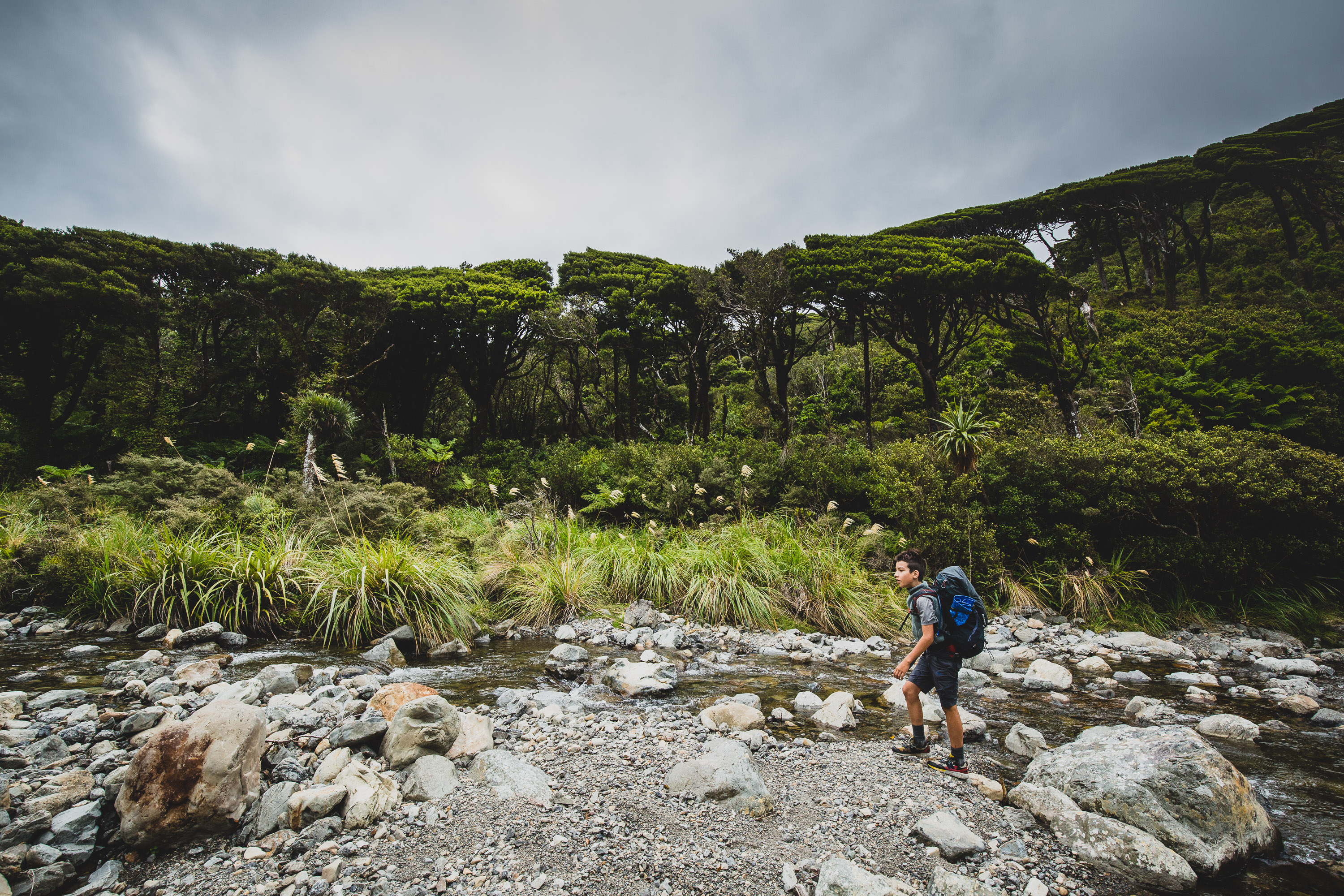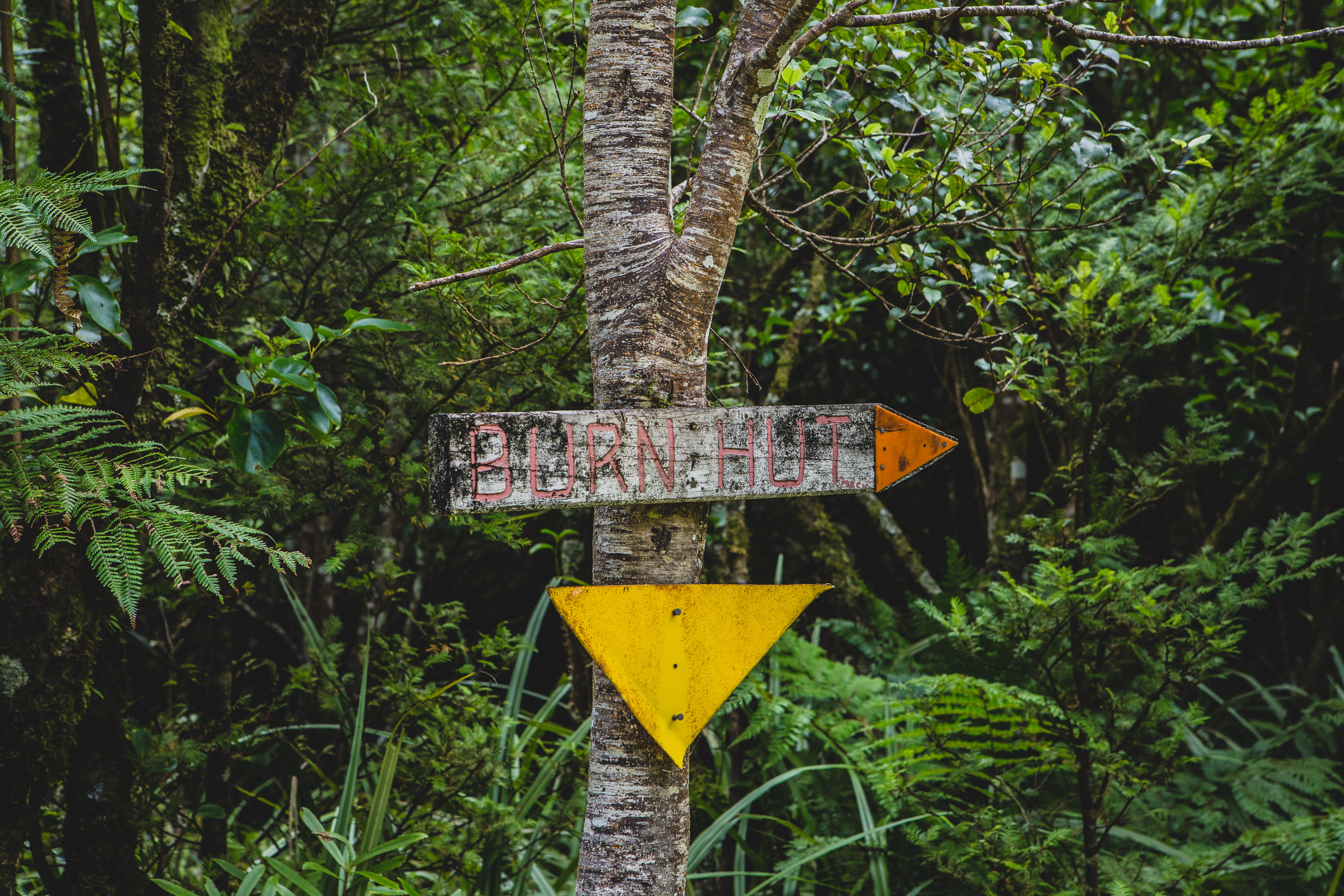 About half an hour after lunch we reached another fork in the river and I spotted another orange track marker, when we got closer we saw that it pointed to another big sign that said "Macks Track 3 Hours". After the sign the track went straight uphill, it was hard at some parts, but we soon got to the bush line. The track was hard to follow above the bush line, it was a little bit overgrown. I had to wait for dad to catch up, he was walking a bit slow. We finally reached the top of the 835m peak when I saw fresh deer poo, and then dad whispered "the deer are right there". For the first time we could see Burn Hut, it looked quite close, but it wasn't, because we had to follow a ridgeline in a semi-circle to get to the hut.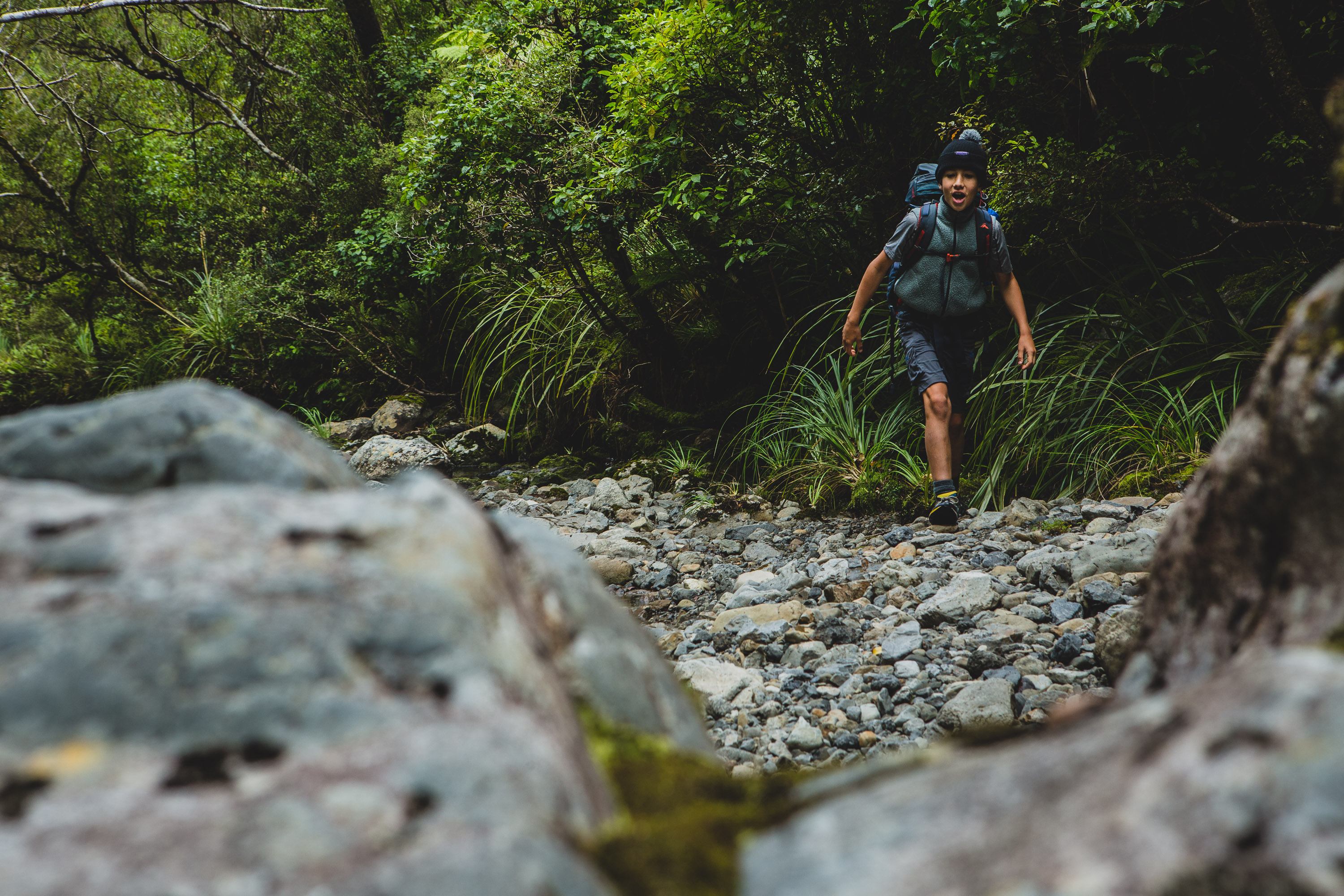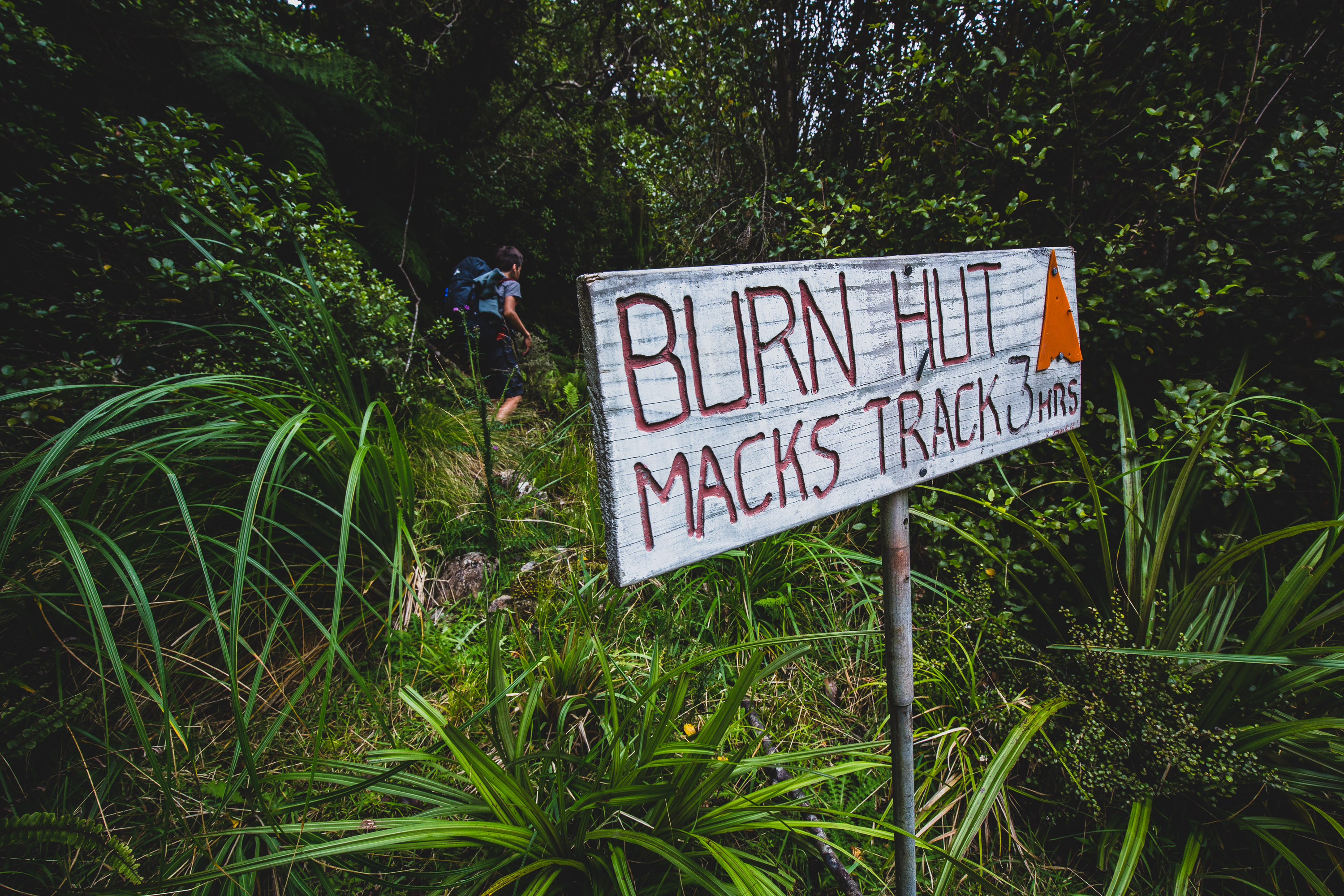 From a distance the track sort of looked like a maze, luckily it wasn't, there was only one way to go. I sped across the peaks because I knew we were close to the hut. When I got closer I saw that there was no one in the hut, all six beds would be ours. Once we got to the hut I noticed that it had two water tanks, most huts only have one. We saw in the hut logbook that not many people had visited, we thought we were going to have the hut to ourselves. I took out the mini Battleship game that I found and we started playing. About ten minutes later I spotted someone walking towards the hut alone. We made butterscotch pudding by mixing milk powder and water together and adding the pudding powder, then dad started making dinner, we always have Rice Rissoto cos' it's cheap, yummy, and not wrapped in any plastic. Dad and Paul talked about photography all night long, I went to bed because I was sick of it!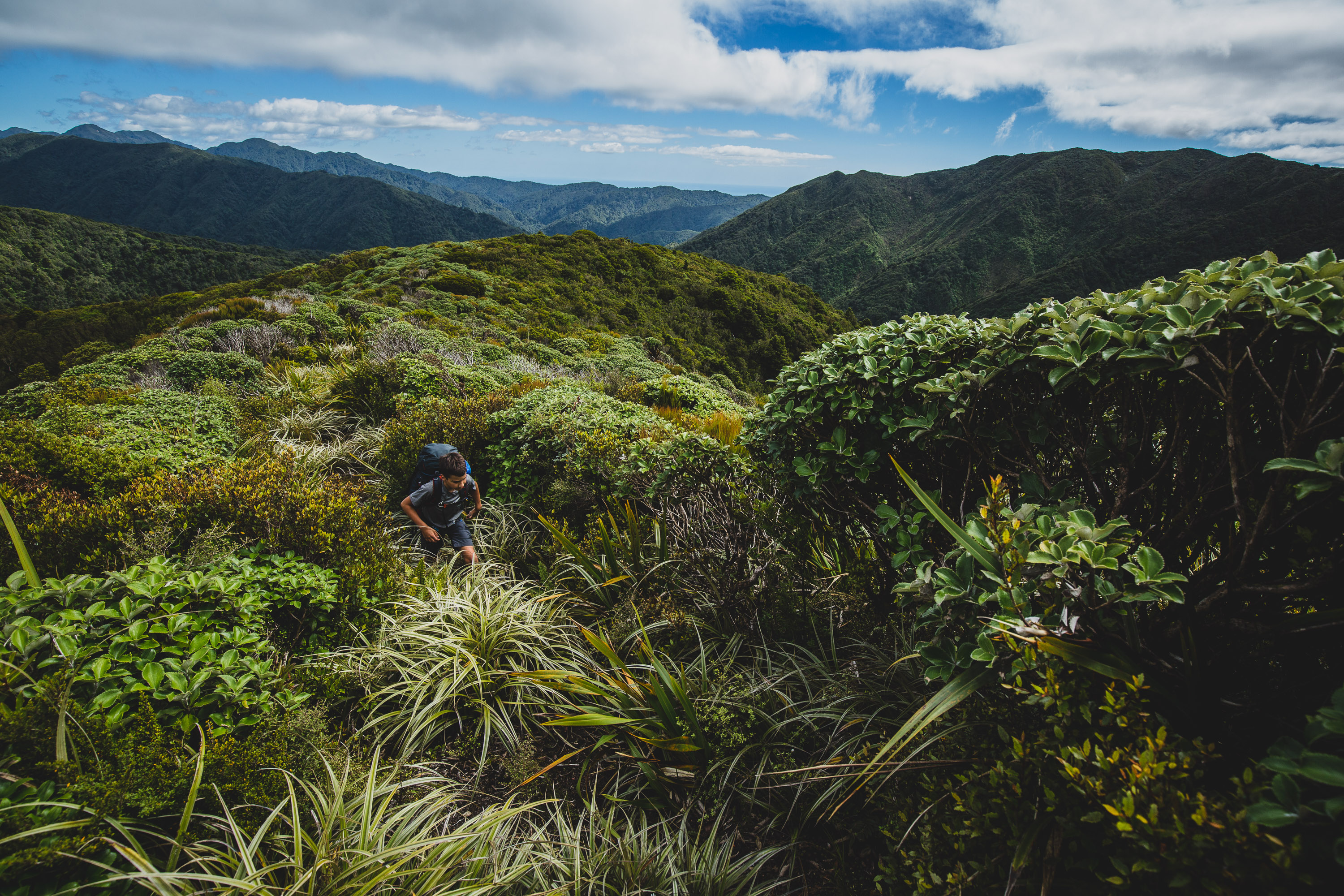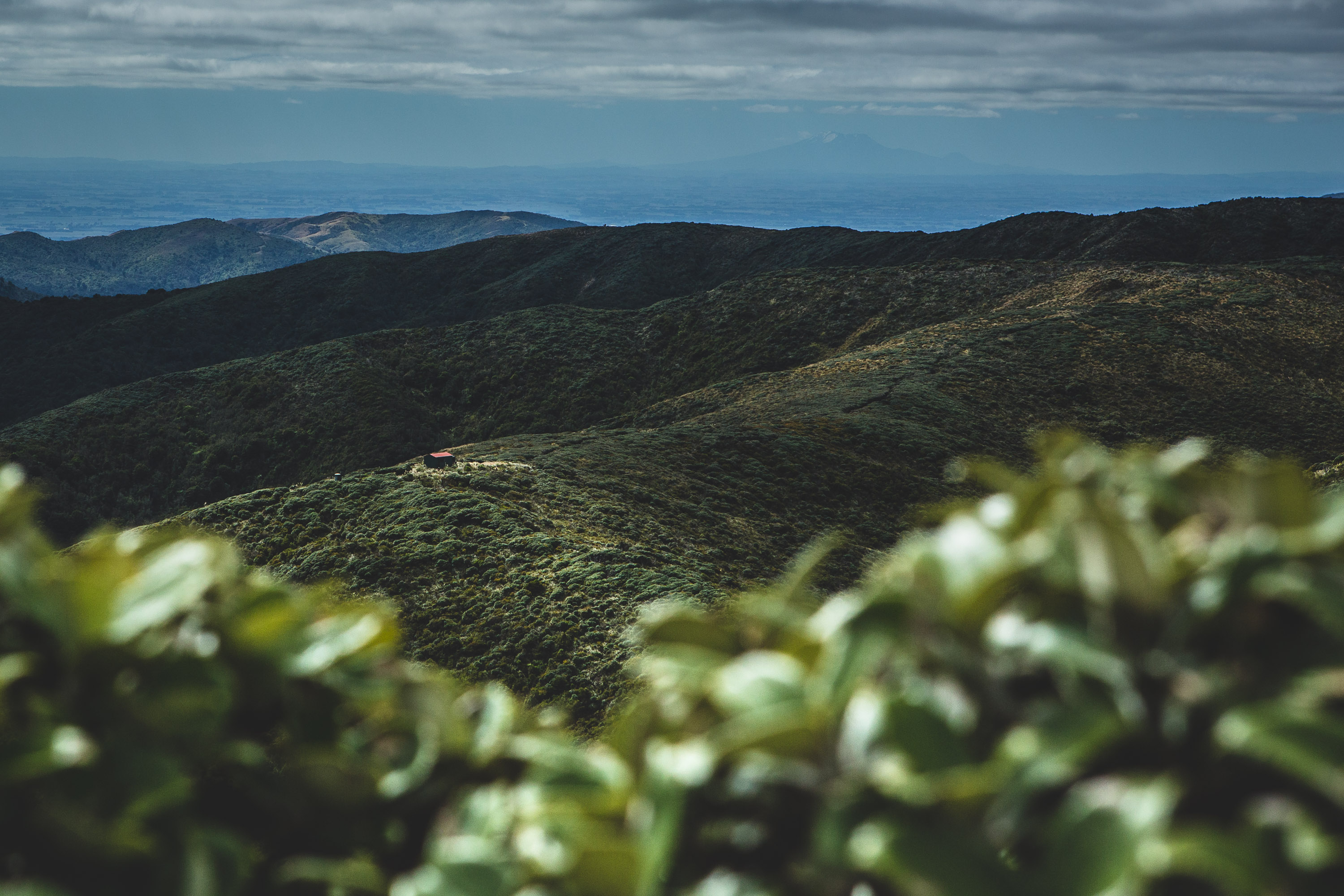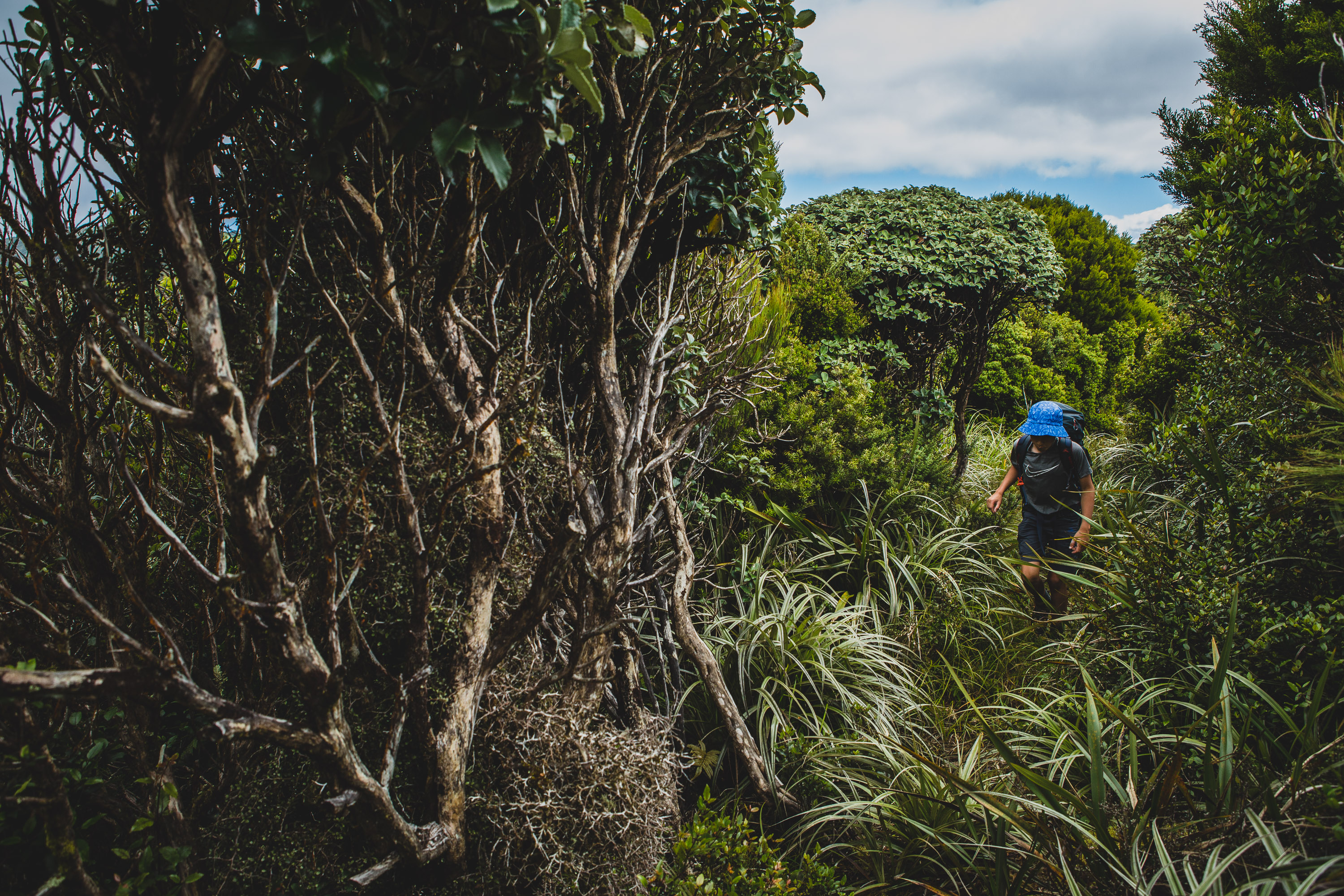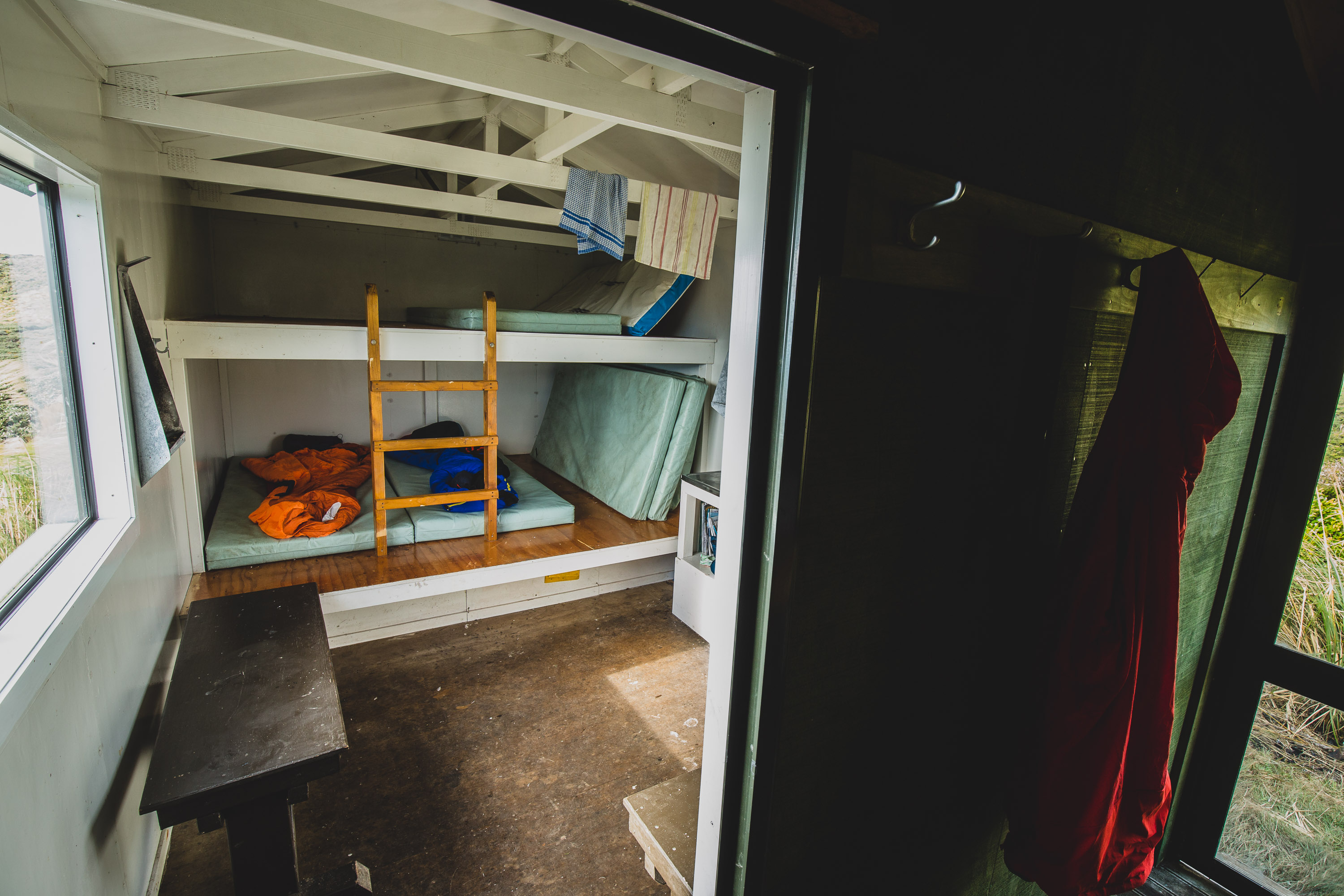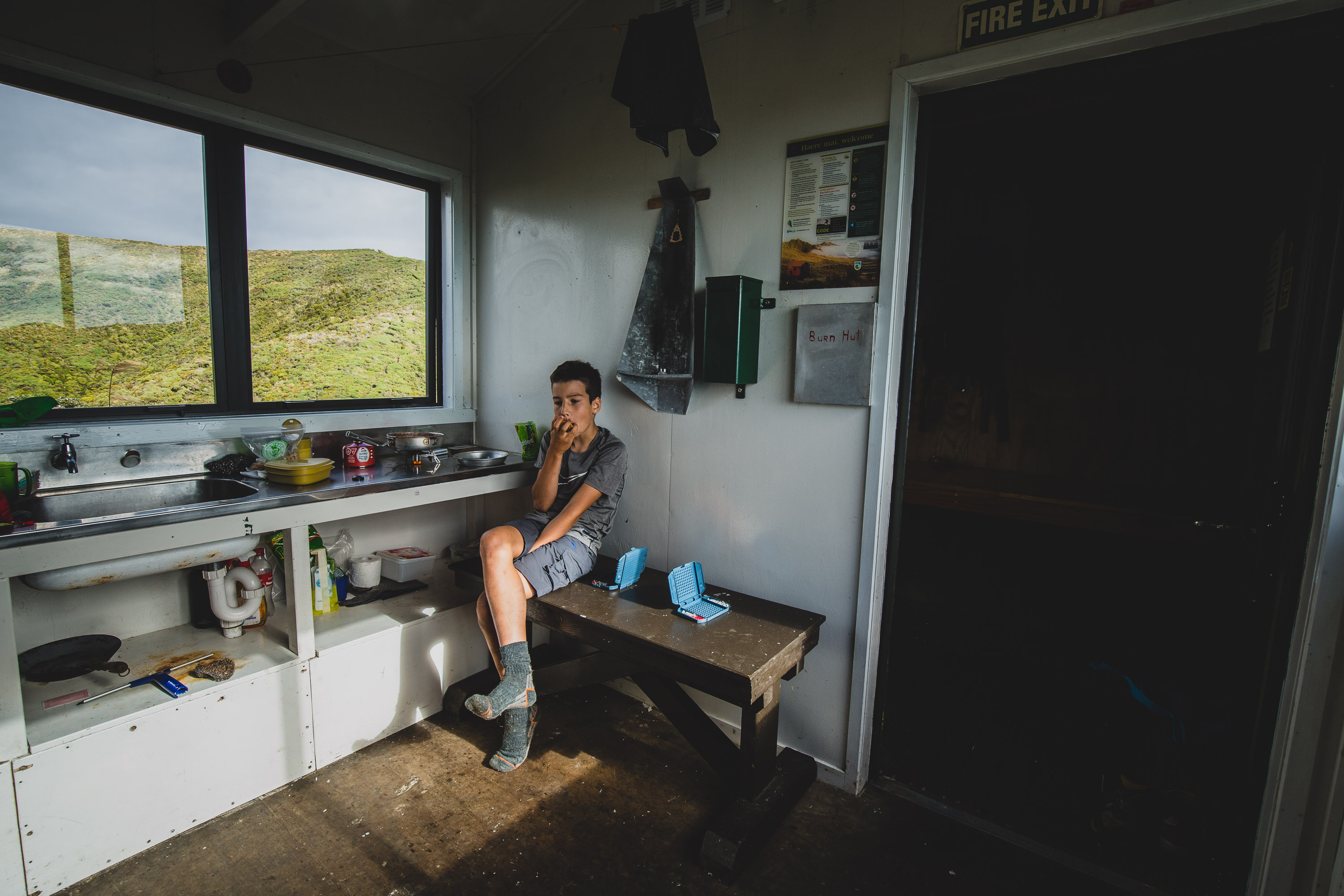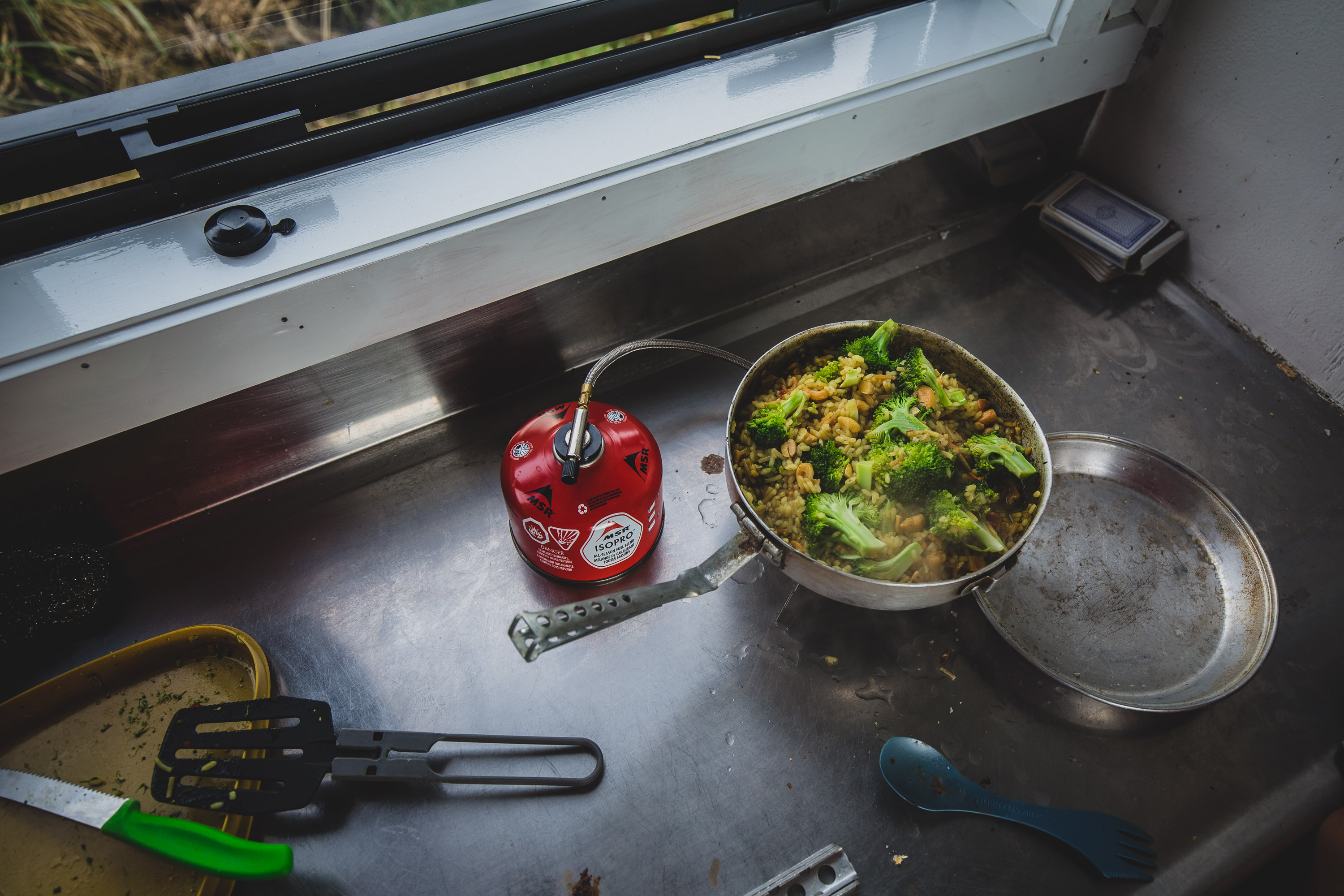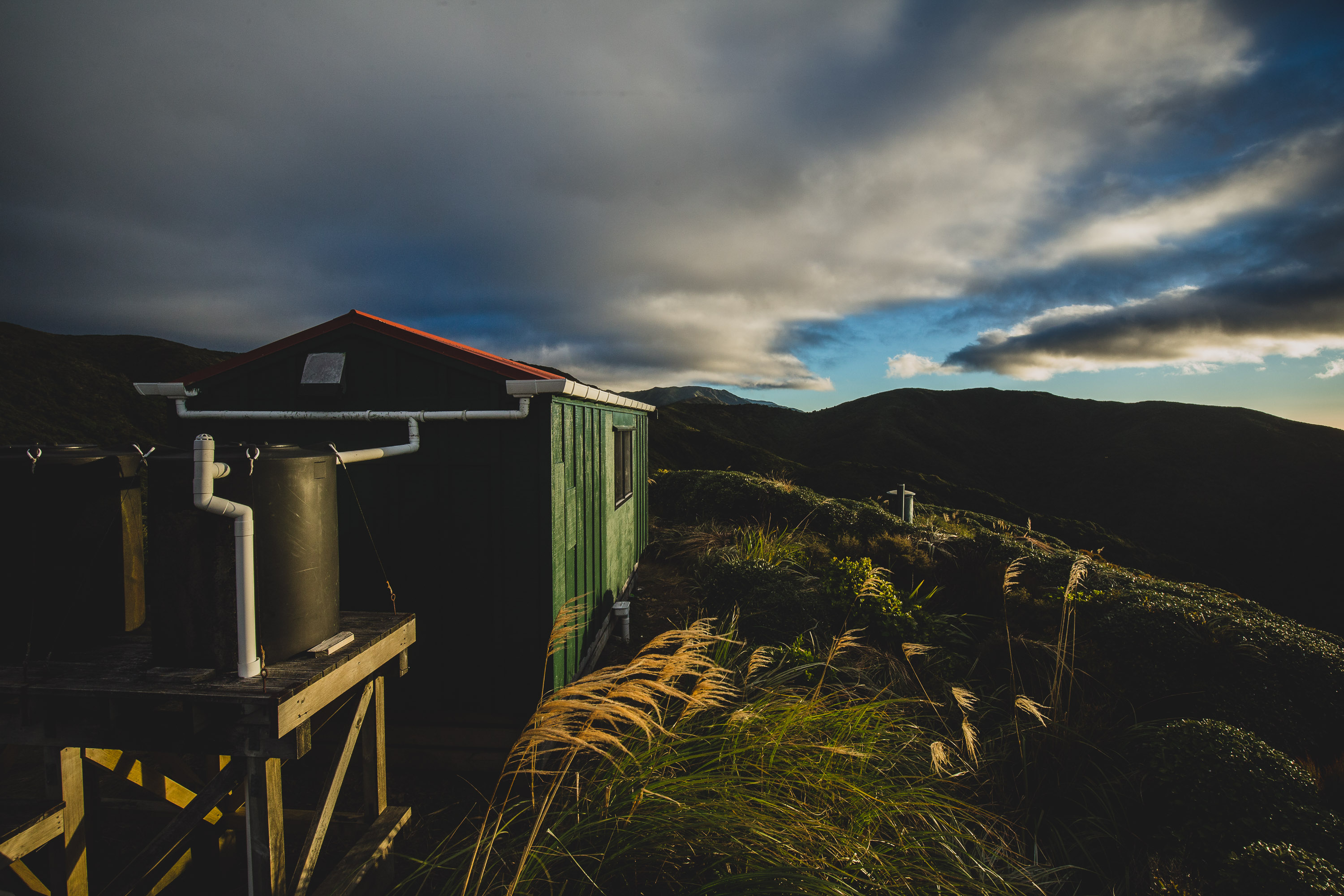 In the morning I told dad that we never finished our game of Battleship, he said he forgot about that, but that we needed to eat breakfast and we wouldn't get to. We swept the floors and put the mattresses on their sides, while we were packing Paul said goodbye and then left. About five minutes later we left, I asked dad if he thought we'd catch Paul, he said definitely not.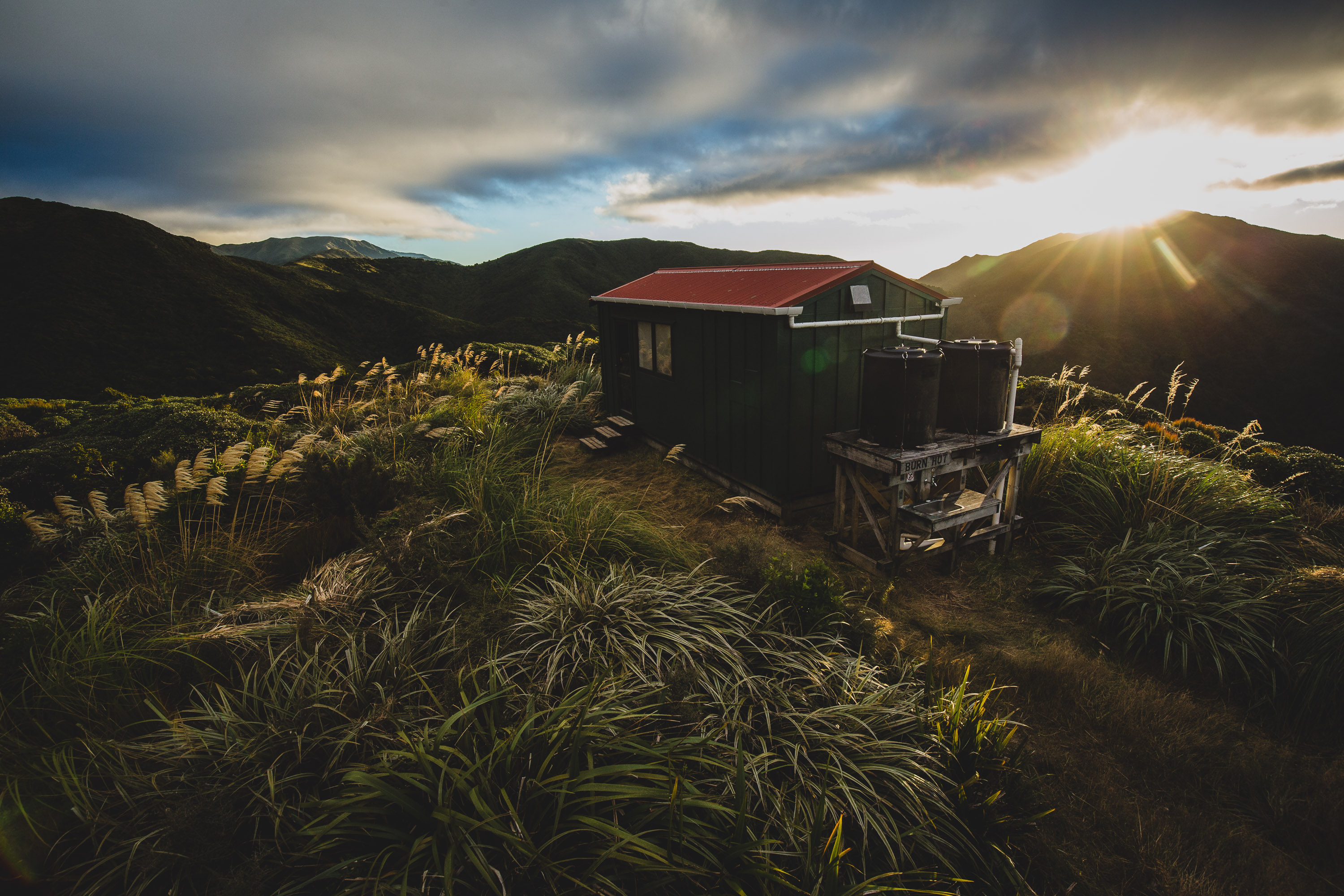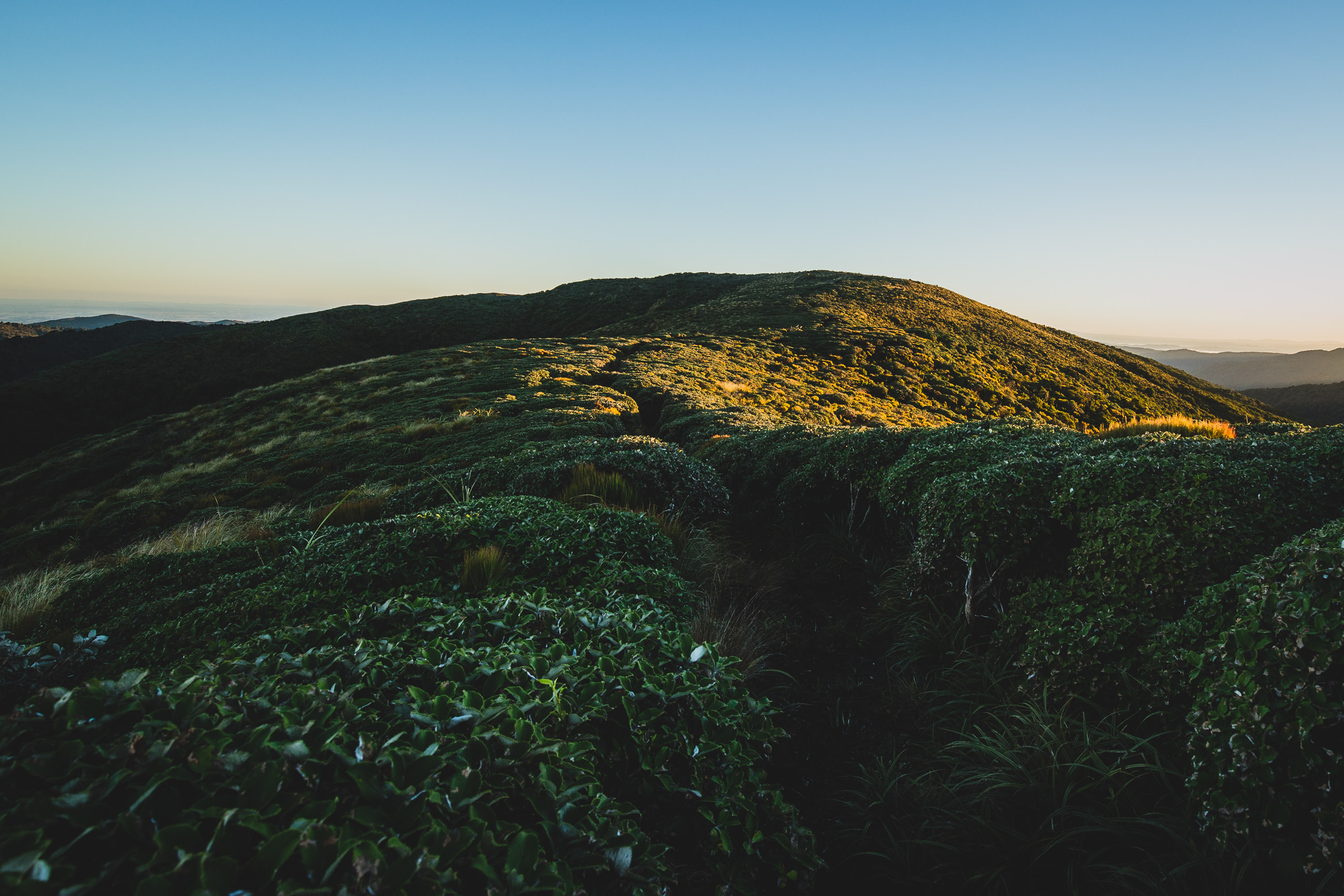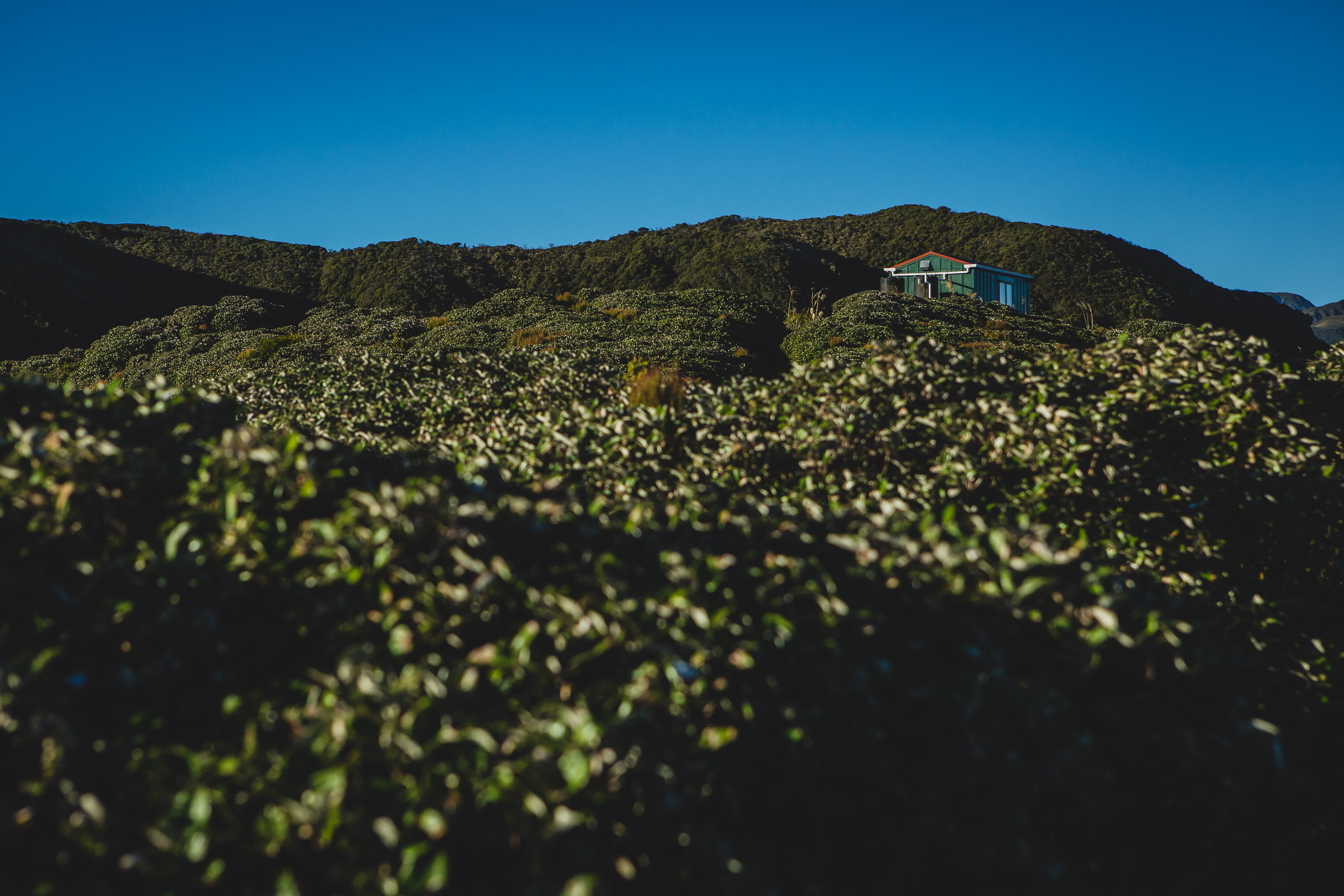 The tramp down to our car at reservoir two was so much quicker than our tramp in, it did have some tricky steep bits but it was much shorter.  Once we left the hut we went uphill for about ten minutes, my legs didn't feel very good in the morning after that, but then it went flattish down. We had no views because the bush was too overgrown, it was like a never-ending corridor, except it did end. When it ended we could see three places, we could see Mt Taranaki, Mt Ruapehu and we could see Burn Hut. We finally reached the dense forest, at two bits I nearly got hurt. The first of the two was me sitting down on a log at the top of a steep edge, then I sat up, my pack bumped against the log knocking me forward then I almost fell straight on the hard dirt about four meters below, but I grabbed onto a root and that stopped my fall.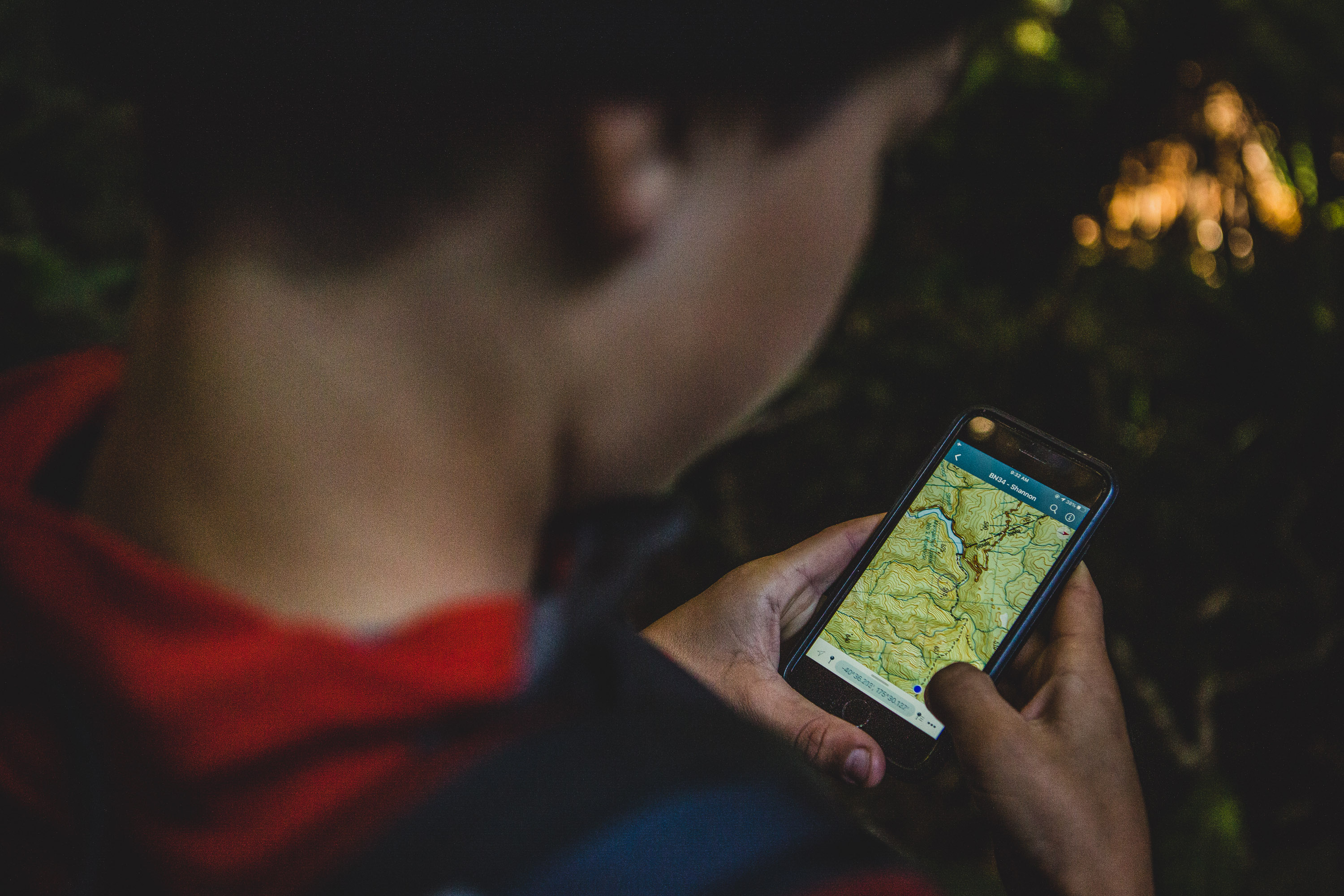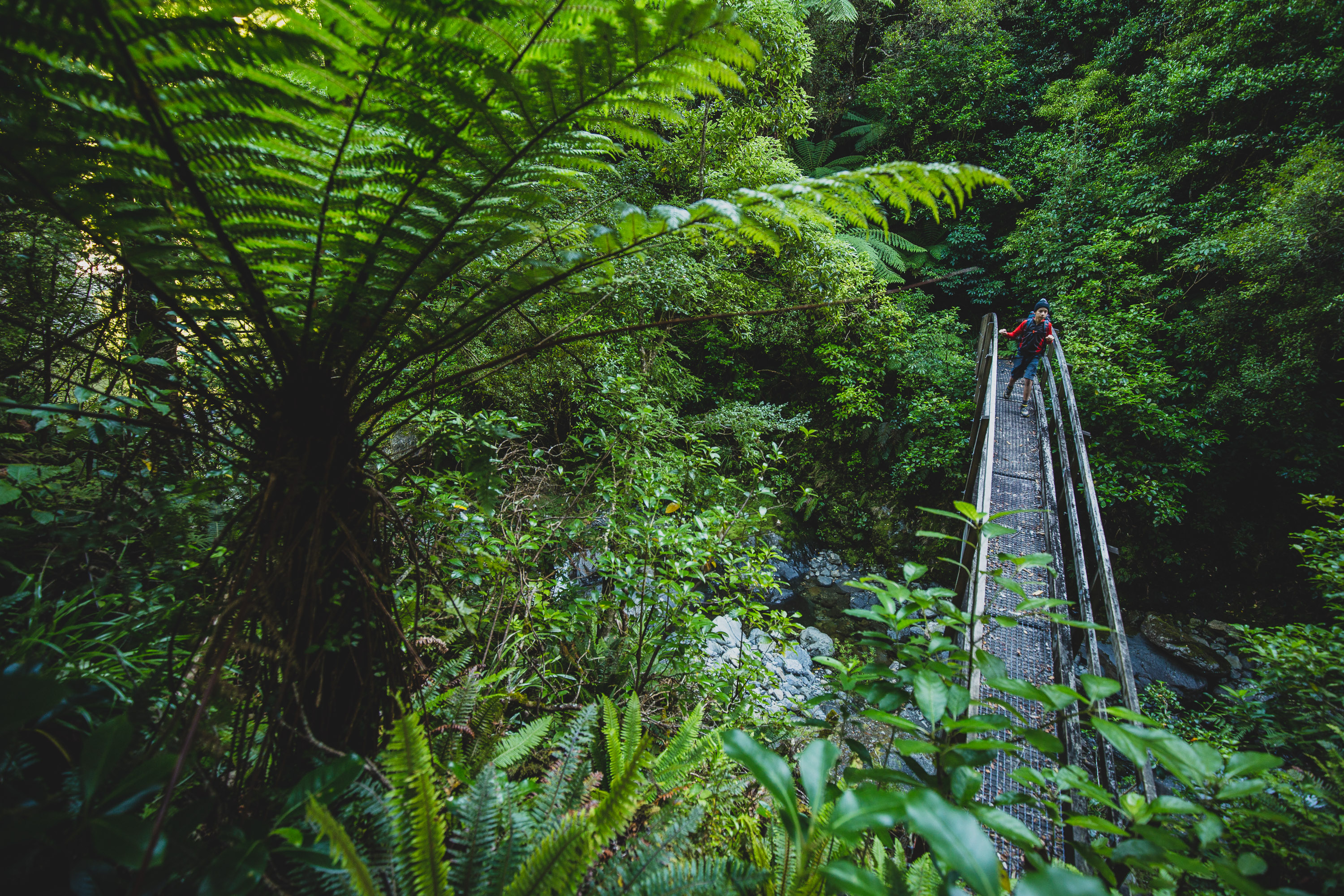 The second thing happened after we crossed a bridge. On the bridge we had stopped and eaten the last of our chocolate. At one point we were so close to the Mangahao River. The track back to the end was tricky in many different ways, it was skinny, it was rough and it was on a quite steep cliff edge. All of a sudden my foot slipped, the track slid open, and I slid with it, I was instantly freaked out, below me there were rocks, trees, and a drenching river. Luckily enough I didn't fall in it because a lifesaving branch helped me. I quickly got back on the thin track and saw that I wounded my leg, a wound that would soon turn into a big bruise. 15 minutes later we appeared on the green grass, we could see reservoir number two and the car.
The Burn Hut Loop was now over.