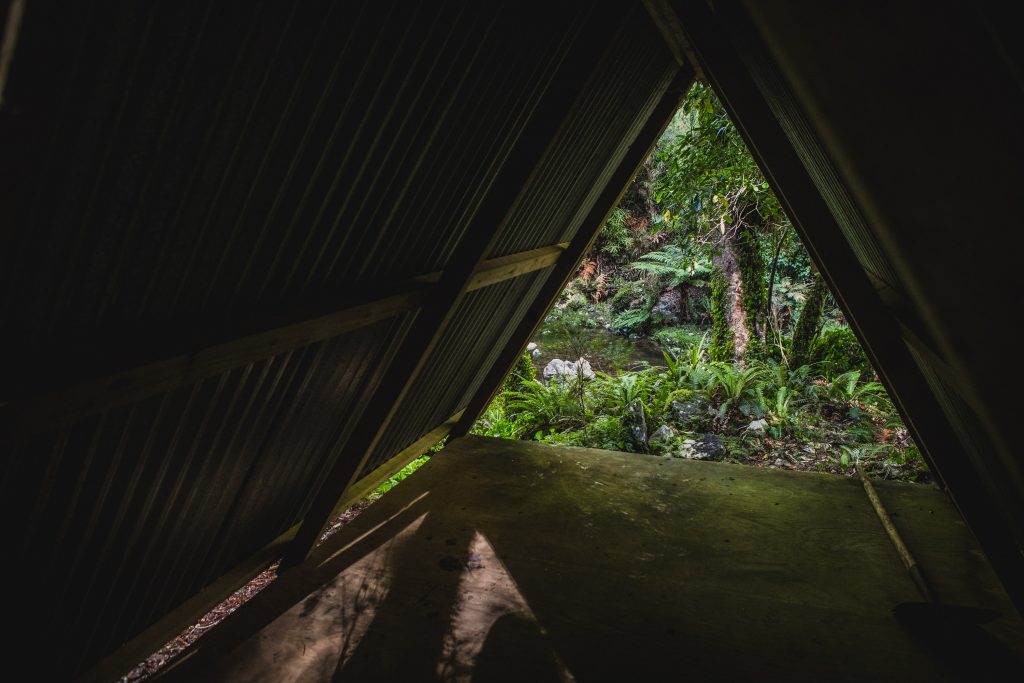 Due to its easy access by 4WD and bike, I've become a frequent visitor to Renata Hut in the Tararua. A few years ago after reading a few of TararuaLite's classic blog posts, I became curious about entering the Tararua from Kaitoke/Pukaratahi Forks. Last November, Max decided to take a nosey and see just how formed the track was, we walked to the flume bridge and navigated our way up to pt642 for a hot chocolate. What we found was a well-traveled route with small spray paint markers on trees guiding us up the spur. Frequent windfall meant that it was easy to lose but it was also easy to pick up again.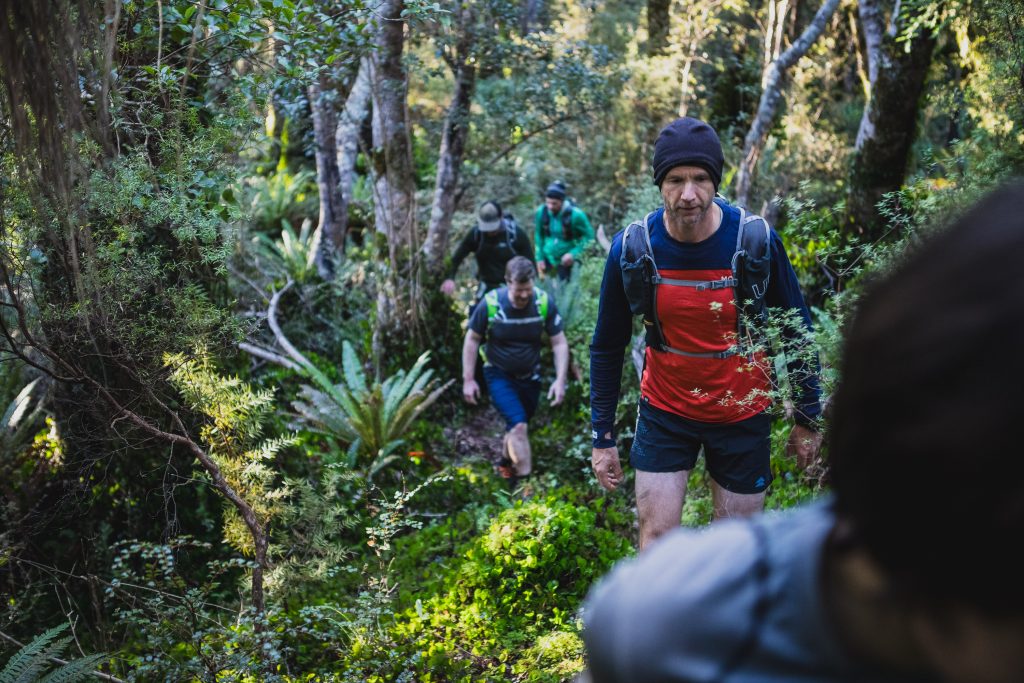 After the trip, I googled a few of the streams and ridges to see if anyone else had written about the area, low and behold the Hutbagger.co.nz website revealed that while we were having our hot cups of cocoa, we were in fact right above a cool little A-frame shelter inth valley below. I've wanted to get back there and locate the shelter, but lining up friends, convincing Max, and finding a free morning have all got in the way.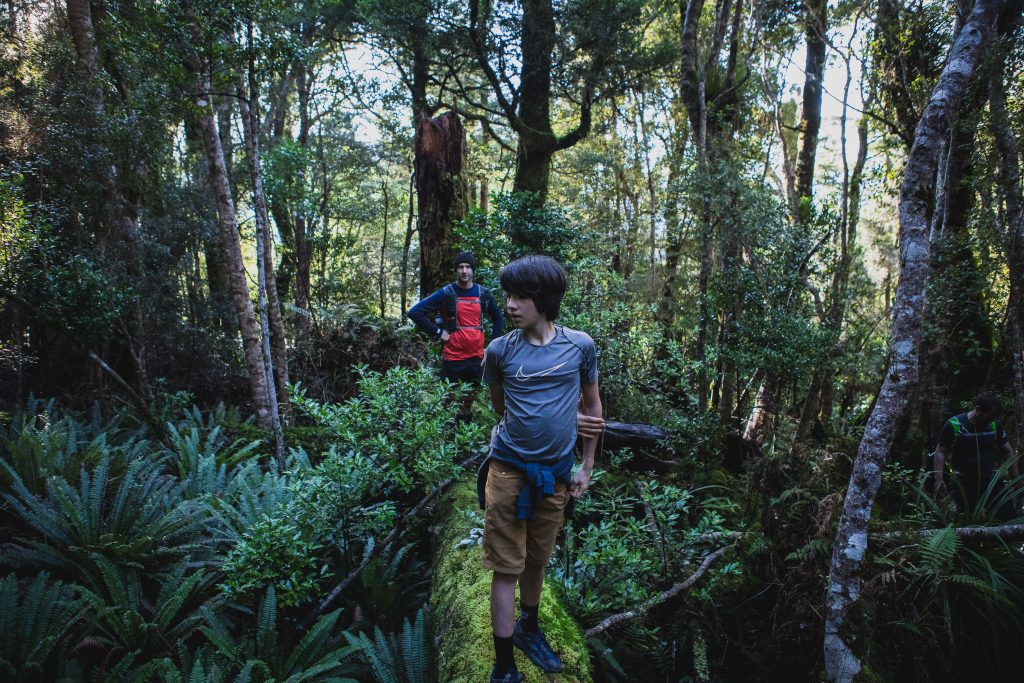 As an 11 and 12-year-old, Max was super keen to hang out with his Dad and come on tramping adventures, but now that he's entered his teens, overnight tramps have become far less appealing with no friends, and my ideas and trip suggestions are met with a no 95% of the time. Recently I've changed tack, eyeing up day trips where he only needs a light day pack (or none at all) and trail shoes. I've got a short list of about six walks that I want to knock off in the next couple of months with Max, and getting to the Putaputa Stream A-Frame was definitely one of them. It was actually earmarked for last weekend but a crazy storm and a shit ton of rain put paid to those plans. On Thursday this week, the weather on Saturday was looking pretty good and a few friends had expressed an interest in joining Max and I. Texts were sent, and a plan was hatched!
Rowan arrived at my place at 6 am on Saturday morning, We picked up his two friends Steve and Nick at 6:15 and then grabbed Cowboy in the Petone at 6:23, pulling into the Kaitoke Carpark at exactly 6:45 am. Everything was going perfectly to plan. On our November trip, we stumbled upon a very defined track, a nearby bait marker meant that it should be easy to find on follow-up trips. Well, it turns out there are a number of bait line markers on the track now, and we just happened to enter at the wrong one. It wasn't all doom and gloom though, we knew where the ridge was, we knew where we were and before long (and after cursing supplejack a couple of times) we had joined the track at a massive fallen tree that Max and I had photographed on our last trip. From here it was plain sailing to pt642 and pt641 not long after. The plan from here was to follow the ridge down to Putaputa Stream and with any luck the shelter.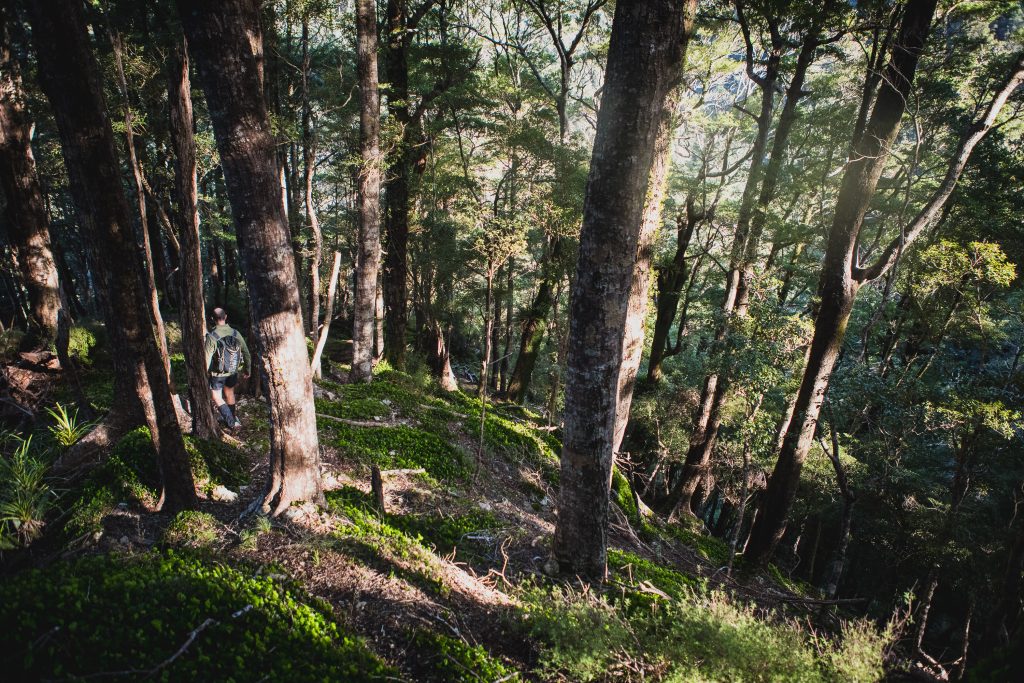 Not too sure exactly when or where to enter the bush, we found ourselves on a false spur almost immediately, a quick traverse west and we were back on to the main ridge, while the ridge is fairly narrow and east to follow there are a couple of small ridges that can easily draw you off line if you're not paying attention to the map or to your bearing.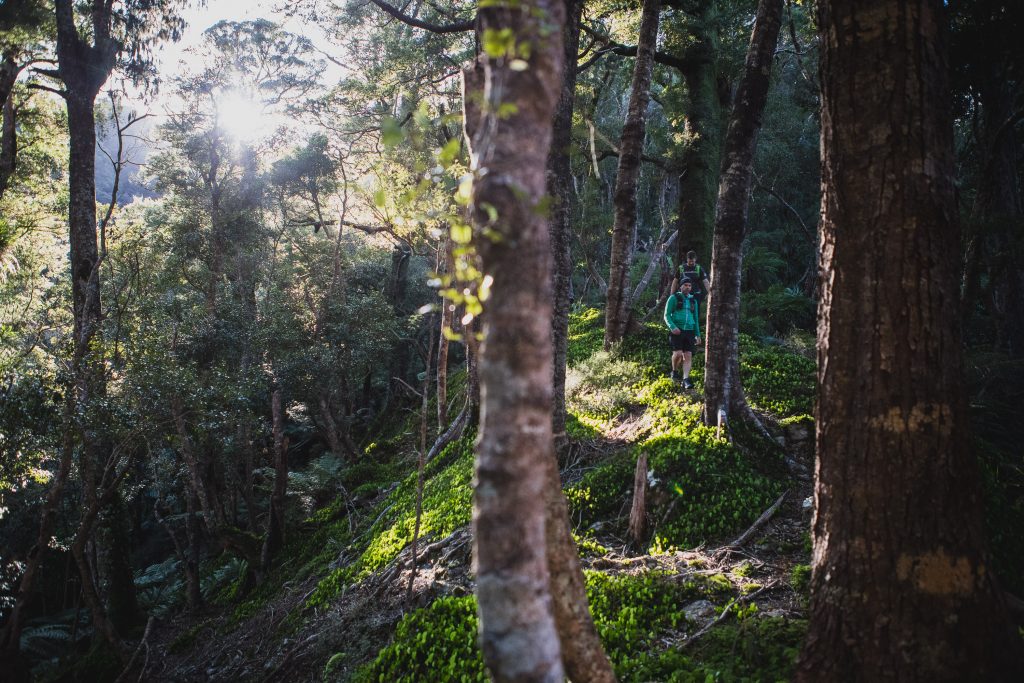 Casting around we would occasionally pick up a ground trail, follow it for 100m or so, and then lose it under windfall, only to pick it up again a few minutes later. This pattern repeated until about the 560m mark when the ridge narrowed, the bush opened up and the ground trail became more obvious. We followed it down to a saddle at the 300m mark after which it climbed 15m up to a small knoll and a very steep 40m clamber down to the stream, and thanks to Max's eagle eyes, the shelter.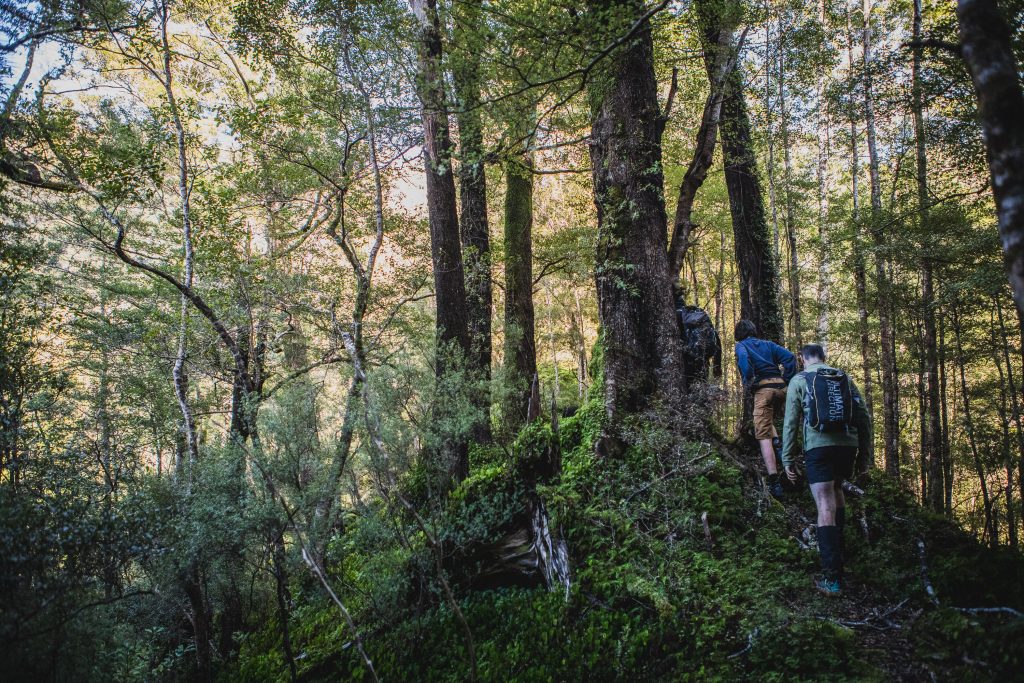 I would not want to clamber down this steep face in the wet. it doesn't get much sun in this spot and the ground was definitely still holding moisture from last week's rain, A misplaced foot or slip here would mean a serious tumble for sure. Our group's descent was problem-free and we soon found ourselves in a patch of sun, boiling water for an early lunch. We'd got to the shelter in a little under three hours.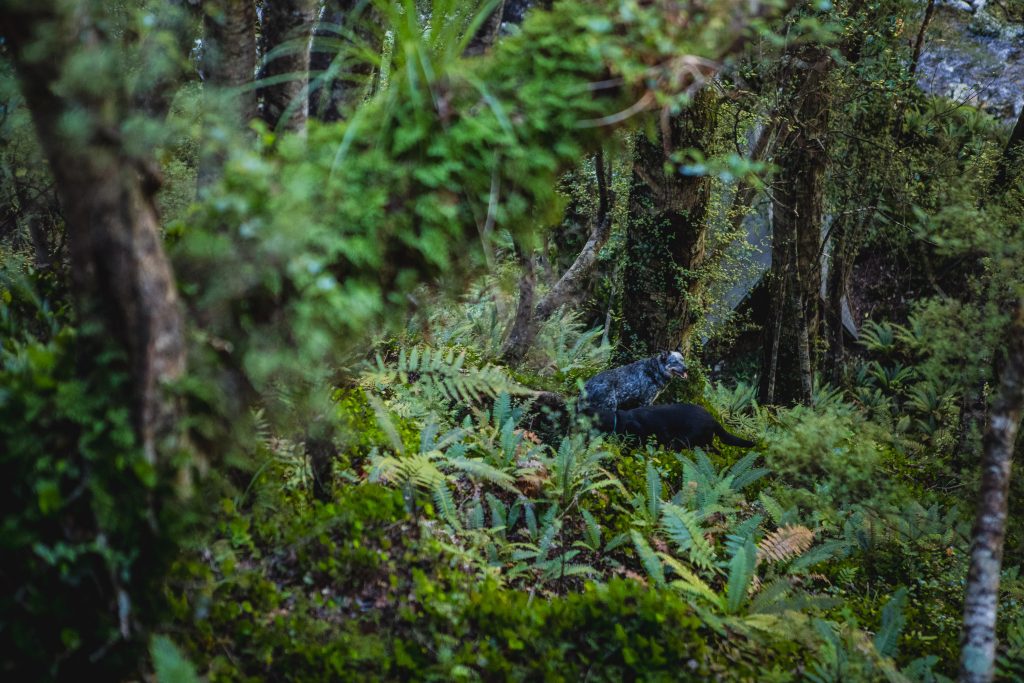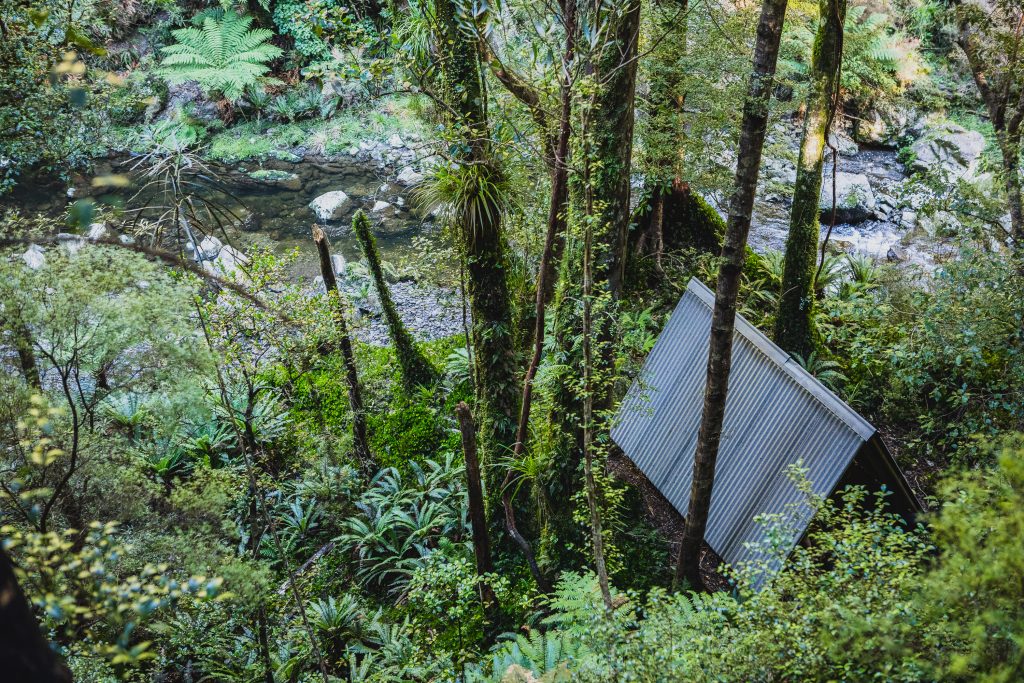 The trip back up was a slightly different affair. The track, which we'd lost and found 15 or so times on our descent, appeared quickly, and surprisingly we never lost it once on our climb back up. The benefit of looking under the ground cover on our climb meant that we could clearly see the trail right up to the main ridge. It spat us out in a small saddle a little past pt641, definitely worth noting this entry point for repeat trips. From here it was a quick trip back to the car down the ridge, we lost the trail briefly at the 490m mark but the spray markers quickly reappeared and we were back on track to the large fallen tree. Not wanting to repeat our supple jack-infused climb, we continued down the ridge following the spray paint and located the defined route that we missed on the way in.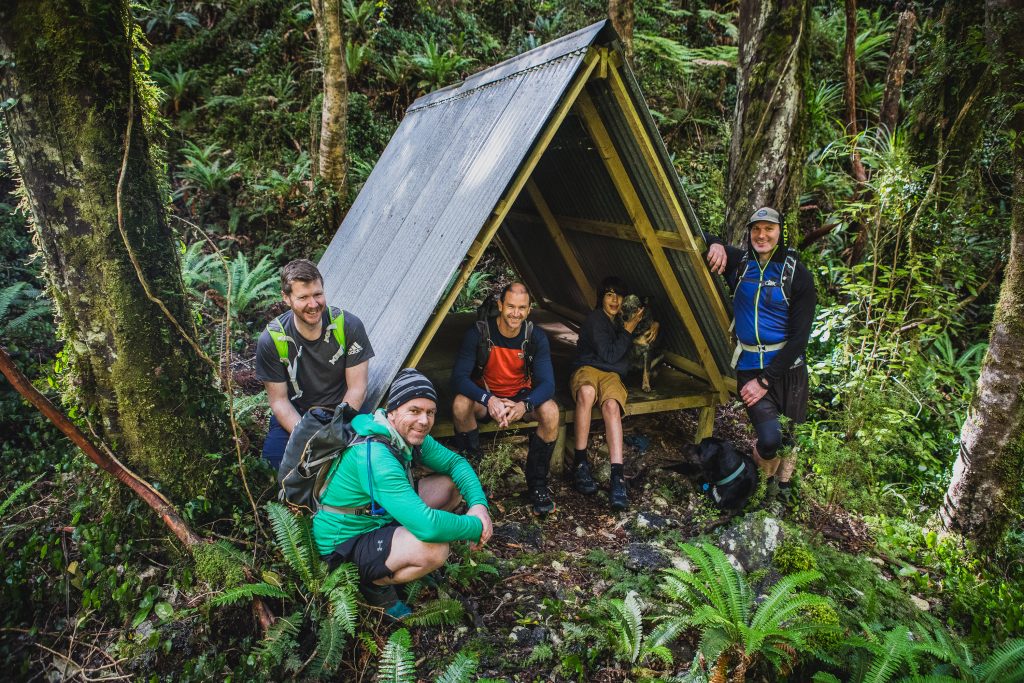 All in all, it was a great little trip with a solid crew, everyone really enjoyed themselves, and It was good to tick it off after all this time. That said I do think I'll be back, it would be fun to spend the night there in summer as its outside the water catchment area, and after doing a little more hunting around online I found a Tararua Tramping Club trip report where they did a loop up Putaputa Stream to the shelter and then up the ridge to and back down. There's always more to explore!